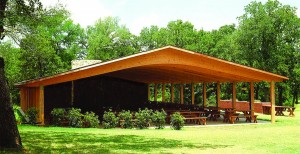 The SAU Alumni Association is gearing up to "raise the roof" on a new 2,720 square foot pavilion. The covered, open air pavilion will be located on the lawn of the Welcome Center by Legacy Lane. The facility will be able to seat 250 people and will be completed with restrooms, a fireplace, serving kitchen, and TVs for exceptional convenience and comfort during your Mulegating experience.
The new facility will not only enhance Mulegating and the campus in general, but it will also become a central focal point for other events hosted by student organizations and alumni organizations. It will be the perfect place to host mixers, gatherings, and reunions, and we intend for every organization, SAU faculty, staff and guests to benefit from and enjoy this facility.
How do I contribute?
There are several opportunities to contribute to the pavilion, allowing you the flexibility to find the path that works best for you:
You can make an investment of any size to help us reach our fundraising goal
You can tailor your donation to meet the monetary requirements of one of the "society levels". Each society will be recognized on a permanent donor wall within the facility.

Society donations may be made as either an individual/couple investment, or as a corporate investment.
Donor society levels
Gold Society – $10,000
Blue Society – $5,000
White Society – $2,500
For more information
Ceil Bridges
Director of Alumni Relations
Southern Arkansas University
100 E. University/P.O. Box 9416
Magnolia, AR 71754
Office: 870.235.4079 or 800.797.1986
Fax: 870.235.4080
Email: clbridges@saumag.edu