Homecoming

We are proud to participate in homecoming every year. We warmly welcome all Muleriders, past and present, in support of the school. Homecoming is the perfect time to reconnect with old friends, and see the difference that your Alumni membership makes first hand. The Office of Alumni Relations shows their school spirit by:
sending out mailings about homecoming
providing prize money to the Office of Student Life for homecoming activities
sponsoring an Alumni Golf Tournament to raise funds for future endeavors
working on projects to enhance the decorating of the campus
sponsoring  Mulegating festivities
sponsoring  the Golden Mulerider Breakfast
organizing class reunions
Would you like to participate in the Homecoming activities? Make sure that your information is up to date with the Alumni Association for mailings.
Want to know what the Homecoming activities look like? Check out the Homecoming 2015 schedule – October 10, 2015 – One Hundred Years of Homecoming.
Mulegating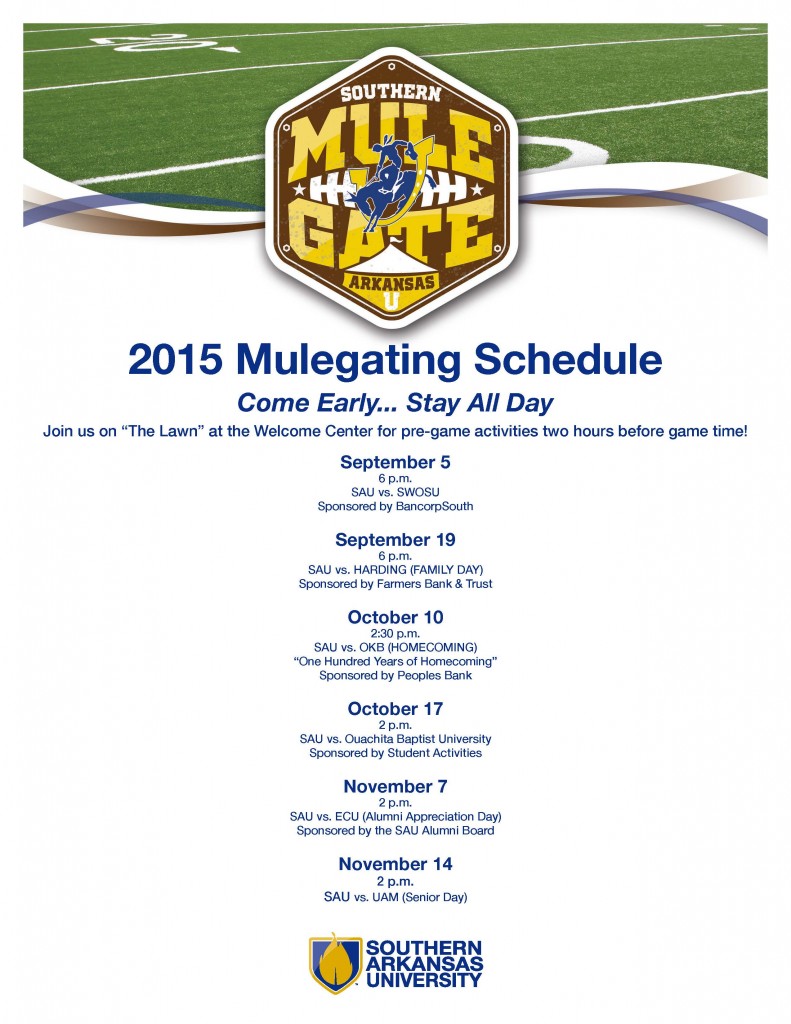 We strive to ensure that our home of the Welcome Center lives up to its name, and this is never more evident than during Mulegating events. We proudly provide a family-oriented environment for SAU Alumni family and friends to enjoy  food, fun, fellowship, and a chance to network.
Sponsors and volunteers are always a big part of Mulegating success, and the Alumni relations helps by finding people to sponsor and grill the hamburgers, as well as sponsors and volunteers to help with the children's corner.
Mulegating happens at every SAU football home game; as such, the current football schedule is one way to learn more about when mulegating opportunities are coming. Alternatively, if you are interested in mulegating, or you would like to learn about being a sponsor/volunteer, we encourage you to contact the Alumni Association for more information.